WELCOME
The Wooden Athletic Fund is dedicated to honoring the lasting educational and athletic legacy of Nell and John Wooden. Together, members of the Wooden Athletic Fund team provide invaluable support for all 700 UCLA student-athletes, and every gift has a positive impact on their ability to succeed in the classroom, in competition and in the community.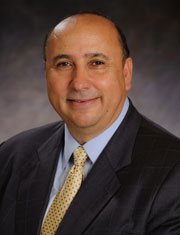 I want to thank you for your interest in UCLA Athletics and in the Wooden Athletic Fund. We take great pride in our nationally prominent athletics program. It took the wholehearted efforts of our student-athletes, coaches, staff and, most importantly, those of our donors and fans to be the first institution in the country to reach 100 NCAA Championships. One hundred NCAA team championships it's an awe-inspiring feat. And we are now embarking on our campaign to capture the next 100.
The Wooden Athletic Fund is the backbone of our fundraising efforts. It exists because of the financial commitment thousands of individuals have made to its mission of providing opportunities for our 700 + student-athletes. Your philanthropic support of the Wooden Athletic Fund plays a pivotal role in our ability to meet the escalating costs of intercollegiate athletics while still providing the best possible environments for our teams to compete and succeed at the highest levels. The Wooden Athletic Fund generates funds to assist in covering program expenses such as scholarships, academic services, life-skills development and recruiting. Your investment in the Wooden Athletic Fund is an investment not only in the rich tradition of UCLA Athletics, but in the future of our student-athletes. I encourage you to join us in our efforts to provide these exemplary individuals with the tools to succeed in life.
Thank you and Go Bruins!

Dan Guerrero
Director of Athletics